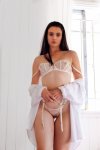 Eliza Shy

News & Tours | Check Out My Profile!
Thursday, 26 September 2019 12:07
Hello darlings!
I might be a bit awkward about this but I just wanted to introduce myself to all you lovely people over on PP. Some of you might recognise me from SB, but either way I can't wait to get to know some more fantastic people and have some fun. :)
Got questions you wanna ask me? Shoot!
If you're a whiskey fanatic we're definitely going to get along ;)
Dont be shy now, come chat and I'm sure I'll see you soon
Kisses
Eliza xxx