Chelsea Monk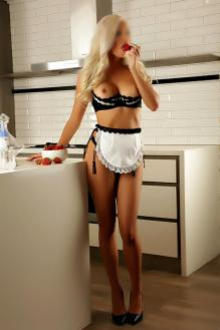 Sydney Private Escort
If you are the kind of man who finds himself halted dead in his tracks at the sight of a dangerously attractive blonde, then I see why I have caught your interest.
Your time with me begins, when you first lay eyes on me.
You know this moment, you're out to dinner with friends, your partner or work colleagues, and that's when you see me enter the room. It's impolite to look for more than a moment, and yet you can't help but stare.
I'm a vision to behold, my tight and feminine figure is dressed in body hugging black silk, it clings firmly to all the right places, yet still manages to show off the cleavage of my D cup breasts. My long legs are thin and toned, and you find your imagination running wild, you're wanting to know how they feel, against your hands, wrapped around your legs.
They're silky smooth, and stronger than you probably think. Now may be a good time to mention I work out vigorously, which you'll find out for yourself when you grab my arse and feel how firm it is.
I'm groomed and manicured, the blonde bombshell of your dreams. Not a speck out of place. I laugh and smile, and you wish I was smiling at you. If I did, you would get carried away again, wouldn't you like to know just how good my mouth tastes? These sexy lips are capable of unspeakable sins. As you look around, you see that yours aren't the only eyes to have found me tonight, every man in the room is looking at me, thinking the same thing as you - I wish I could take her right now.
Imagine if I walked right up to you, and told you, you could.
By no means, would you consider me your typical girl next door. Though, as surprising as it may be, if you do happen to get me alone, you'll find an unpretentious carefree spirit, exceptionally skilled at putting you totally at ease.
When I undress, even though your breath may catch in your throat, and every part of you will certainly stiffen to attention, what unfolds next will feel completely natural. Though I am a professional escort, you will forget that entirely as I kneel before you, my mouth travelling down your body. You will think only of the blonde who stole your attention, and who you just knew you had to have.
I could go on, but I'm a girl of action not words.
I'm not the girl who sits around waiting for life to happen.
It's your turn to take action now, and you can do so by sending me a text or email.
PS. Don't let those butterflies fluttering about in your belly hold you back, once you get in touch with me, you will be surprised at just how accommodating I can be!
With love,
Chelsea
Additional Info

News & Tours
My Statistics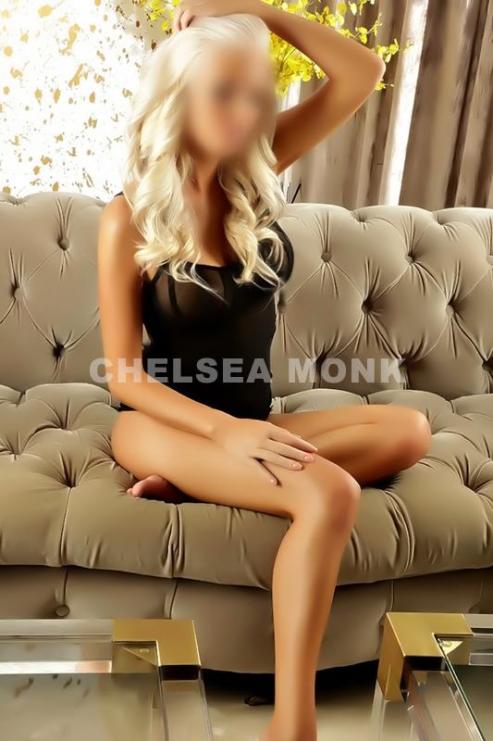 Age
23
Hair Colour
Blond
Eye Colour
Blue
Skin Colour
Pale
Height cm
171
Dress Size
8
Bust Size
D
My Services
Please read about my services below. Availability may be subject to local laws.
Sexual Intercourse
Multiple Shots On Goal
Erotic Massage
Body Slides
Oil Massage
Handjob
Spanish
Cuddling
Light Kissing
Deep French Kissing
Passionate Kissing
Blowjob
Covered Blowjob
Bareback Blowjob
Fire & Ice Blowjob
Cum In Mouth
CIM With Swallow
Cum On Body
Deep Throat
Balls Licking
Mutual Oral
Oral On Me
Finger In Pussy
Nipple Sucking On You
Nipple Sucking On Me
Light Anal Play
Anal Play On You
Anal Play On Me
FFM Doubles
Couples
Golden Shower On You
Rimming On You
Rimming On Me
Tromboning
Striptease
Cross Dressing
Costumes
Sex Toys
Spanking
Light Bondage
Fetishes
You may see me and be instantly reminded of an angel, which of course I can be. If you like a softer touch, the Angelic Chelsea (GFE) shows you what it's like to have me as the ultimate girlfriend.
If you want the ultimate girlfriend, without the angelic restraints, then my Devilish Chelsea (PSE) is for you.
Experience what it's like to have me when all bets are off!
Please contact me directly for my detailed services split.
Additional Info
My Rates
Duration - Incall - Outcall
| | | |
| --- | --- | --- |
| 30 Min: | 550/650 | |
| 1 Hour: | 700/900 | |
| 90 Min: | 1200/1500 | |
| 2 Hours: | 1400/1700 | |
| 3 Hours: | 200/2600 | |
| Dinner Date: | 2800 | |
| Overnight: | 5000 | |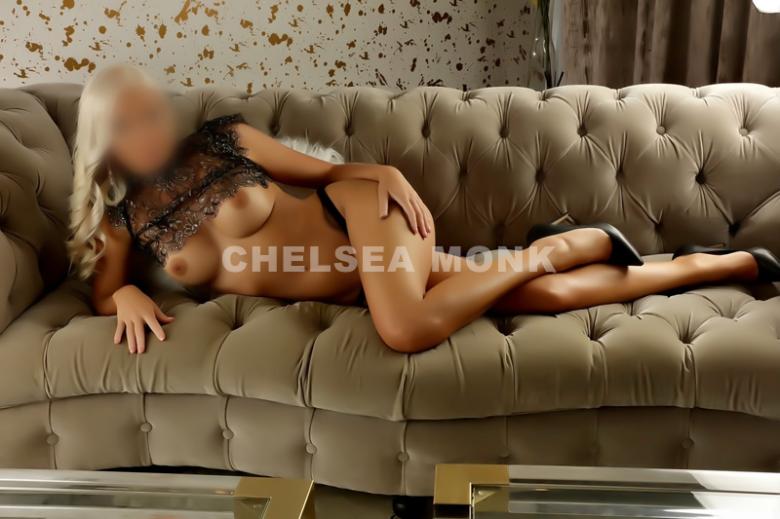 My Availability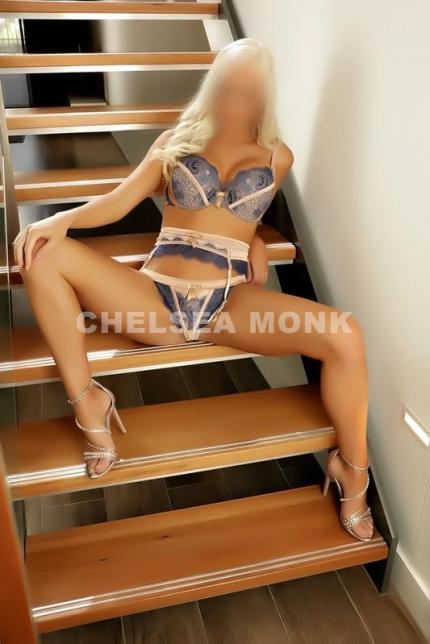 Incalls And Outcalls
I can be available 7 days a week, from 9am - 11pm.
I maintain a lovely incall, and am also happy to travel to you at your location.
Please contact me with the following information to arrange a meet;
Name
Desired date and time of booking
Location
Duration and style (GFE/PSE)
Special requests
I require a small deposit to confirm all my meets and can accept cash, bank transfers in advance, and EFTPOS (this attracts a small surcharge).
Working Hours
| | | |
| --- | --- | --- |
| MON: | 9:00 AM | 12:00 AM |
| TUE: | 9:00 AM | 12:00 AM |
| WED: | 9:00 AM | 12:00 AM |
| THU: | 9:00 AM | 12:00 AM |
| FRI: | 9:00 AM | 12:00 AM |
| SAT: | 9:00 AM | 12:00 AM |
| SUN: | 9:00 AM | 12:00 AM |
Contact Me

Phone:

0458 272 408

SMS Only Please
No Blocked Numbers