Lauren Hart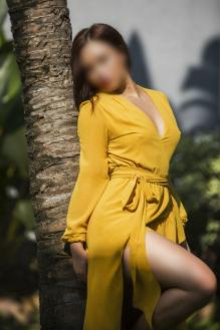 Melbourne Private Escort
Let's dance…
If you are craving the company of a fiery woman who gets your blood pumping and takes your breath away, I invite you to take a step inside my world. It would be my pleasure to leave you inspired and exhilarated, with a renewed lust for life.
As a sexual creature who adores intimacy, I get a thrill out of providing what I do. Open-minded, vibrant and full of passion; I honour the individuality of each person who crosses my path.
My belief is that every time you meet someone, you do a little dance. You feed off each other and interact with one another's energy. Therefore, you won't be getting any "same old routine" when our worlds collide. I take pleasure in reminding each person exactly what it means to be human.
So what am I like?
In physicality, I have exotic looks due to my mixed Eurasian heritage. Think full lips, large almond-shaped eyes and a big, wide smile. My body is completely natural – toned with small, perky breasts; a generous behind; smooth, soft skin and lightly freckled shoulders.
In personality, I am fun-loving and full of life, with a warm and unpretentious nature. I don't care about your age or where you come from. What I care about is what lies beneath the skin.
Our time together
Between the sheets I adapt to each person I am with and my mood on the day. I am known for providing the most intimate and luxurious of girlfriend experiences to a downright dirty "porn star" experience (for want of a better word). In your initial contact with me I welcome indications of your preferences to make our time together special and one of a kind.
Beyond the bedroom, I am the ideal dinner date or travel companion. As a caring and non-judgmental listener, I take great interest in getting to know those who live a completely different existence to mine.
Similarly, I am a multi-faceted person who has had the luxury to explore a wide variety of interests all around the world. I have many exciting tales from my unconventional life thus far. I am also lucky enough to be a university graduate of my first love, a discipline in science.
I can't wait to meet you…
I have recently set up a new website and would love for you to check it out. You will find more information (especially through the FAQ) that may help you before arranging our encounter. You will find my website link on the contact section of my profile.
Until we meet,
L

Additional Info

News & Tours

Reviews
My Statistics
Age
27
Nationality
New Zealander
Hair Colour
Brown
Eye Colour
Brown
Skin Colour
Tanned
Height cm
165
Height ft
5'4"
Dress Size
10
Bust Size
B
Breast Type
Natural
My Services
State laws prevent me from listing services. Please toggle content below for more.
Victoria's sex work advertising laws prevent me from specifying services, so feel free to enquire. Non-Victorian visitors may check out my interstate section for more information.
Additional Info
My Rates
Duration - Incall - Outcall
| | | |
| --- | --- | --- |
| 1 Hour: | N/A | $650 |
| 90 Min: | N/A | $950 |
| 2 Hours: | N/A | $1,200 |
| 3 Hours: | N/A | $1,600 |
| Dinner Date: | N/A | $1,800 |
| Overnight: | N/A | $3,500 |
1 hour - $650
1.5 hours - $950
2 hours - $1200
3 hours - $1600
4 hours - $2000
4 hours dinner or lunch date (approx 2 hours dinner/2 hours play) - $1800
6 hours - $2500
8 hours - $3000
Overnight (12 hours) - $3500
Extended overnight (16 hours) - $4000
Two nights - $6000
My rates are all-inclusive - what I provide is what I am comfortable with and what I am happy to do, therefore I don't charge additional costs. I enjoy longer bookings and my rates are skewed to reflect this.
Additional Info
My Availability
I am available most days with notice.
To make a booking, please let me know the location, duration and time of the booking along with a second option.
My preferred methods of contact are email, whatsapp or sms. As I have other commitments it is not always convenient for me to answer your questions on the phone.
Please try to provide as much notice as possible. A detailed enquiry will definitely be responded to as soon as I can.
For more information, please visit my website: http://lauren-hart.com
Contact Me

Phone:

0449 015 195

SMS Only Please
No Blocked Numbers
Email Preferred
Added: 01.04.15 | Updated: 19.06.17 | Hits: 8253
MORE FROM THIS ADVERTISER
Interstate Profile