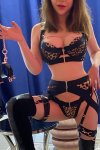 Kate Wu

News & Tours | Check Out My Profile!
Monday, 19 October 2020 13:22
Just finished my brand new DIY website. New naughty content uploaded weekly - http://www.katewuescort.com
First time I have made a website so just like I said during my "first time": be gentle baby. We can get rough later though!
I am so much better at "other things" than website design so if you have any tips don't be shy.