No.5 Sweet Maids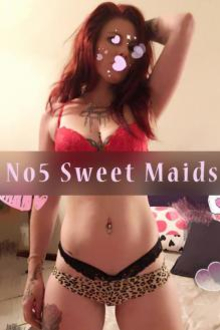 Berkeley Vale Brothel
No.5 Sweet Maids (Sweets No.5)
Berkeley Vale Exquisite Bordello For Your Desires For Twenty Years.
Catering for the loved ones..
For COUPLES (man & women) too and can provide a DOUBLE service (two girls for one man). Call now and ask about special offers.
Let one of our beauties show you new naughty things.. Perhaps she can slowly strip her elegant dress off, revealing her fabulous curves in flattering lingerie and leave you breathless with her soft tongue …
Landline: 02 4388 9688

News & Tours

Reviews
Our Line-up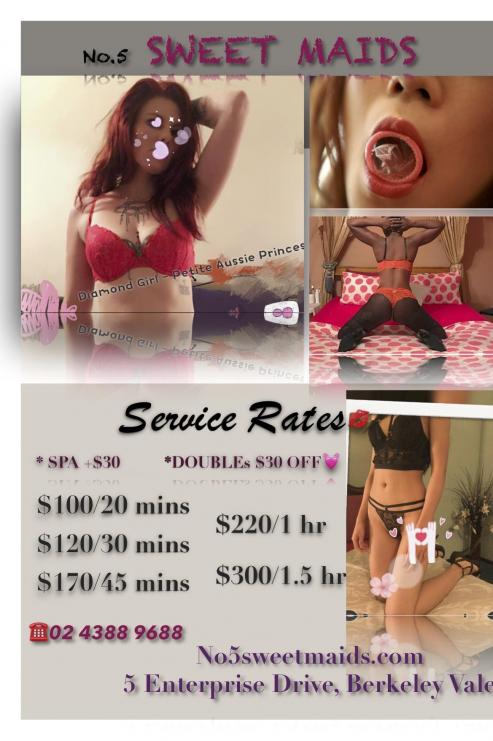 KATRINA, newly arrived today is our tall slim tanned skin hot Aussie model ~ ~ Size 6 small petite handful C Cups+ tits big round ass, GFE moaning aside your ears ~ ~ ~SENSITIVE wet as the running tap ~ TIGHT as first timer reaches climax with you all the way to the end !! ~ ~ ~ ~
NANA (Vibrant, wild, outgoing SINGAPORE girl just arrived! Smooth pure pale white skin with a pair of Natural handful DD+ boobs! Naughty cute innocent quiet funny wild personalities all in one ~~!!
SMOKING HOT ♥♥ Chili.!! Travelling half the globe eventually landed the curvy African girl, fit & firm size 8 ~10 body figure, handful natural C cups with cutie nipples. Happy innocent experienced naughty wild mixed up personality specialising in Dirty Talk and love it to death…. TOP TOP TOP skills in BLOWJOB Sucking Bed!!!! SHE LITERALLY SUCKS EVERY DRIPS OUT OF YOU~ ~""
Newly arrived is our INNOCENT & BUSTY 22yr old Taiwan student girl, NEW to job NEW to shop NEW to industry~~Size 10 big tits DOUBLE E CUPS round ass GFE moaning aside your ears~~~SENSITIVE wet as the running tap~ TIGHT as first timer reaches climax with you all the way to the end!!~~~~
Chinese baby girl Meena just landing upon the coast, smooth pure spotless pale skin with natural handful Double C+ Cups & an eye-dropping alluring round ass! Blowjob expert sucks you out of your mind!!~Straight to the END!!~~New to job New to industry New to SHOP. Good English. A bit shy and dirty-talking mixed-up personality.
Amy, Thai & Aussie Blood Mixed 25yr old BABE, tall busty Double D Bouncy boobs curvy body figure, long blonde curly waterfall hair, stunning sexy out the room & wild in bed, suits all kinds of clients..Great English..Professional Thai Aroma Massage to relax your after-sex bumping heart~~~
Vivian, 24yr old Taiwan student girl with cutie slow personality, pure white spotless smooth skin all over the body, busty Double D with NOWHERE to find pinky nipples, inexperienced new to jobs brings in the first lover impression, improved English & trying her best to learn.~~~~""
Tiana, newly arrived talented Malaysian girl, short black hair with busty curvy figure, Double D cups. Gentle and care girl brings in a reflection of girlfriend. Great English and easy outgoing personality~~
Our Rates
Duration - Incall - Outcall
| | | |
| --- | --- | --- |
| 30 Min: | $120 | |
| 45 Min: | $170 | |
| 1 Hour: | $220 | 350 |
| 90 Min: | $300 | |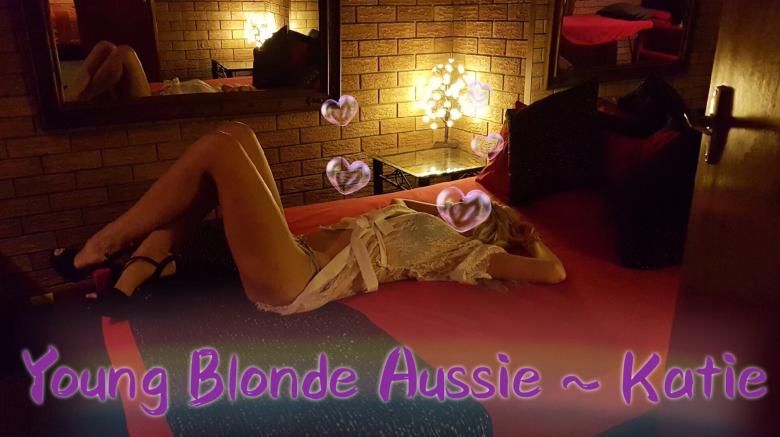 Our Availability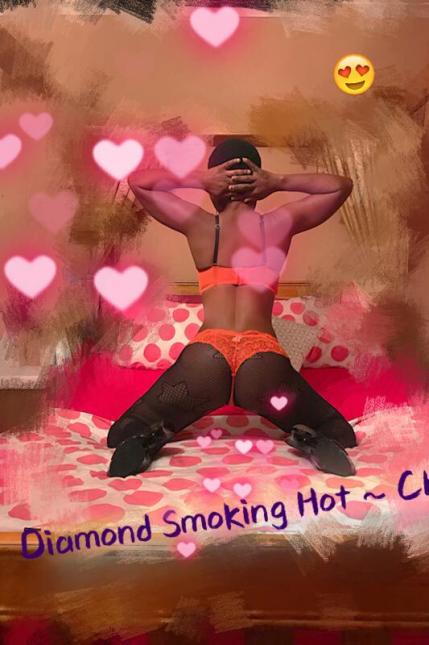 Incalls And Outcalls
7 Days
Main Trading Hours: 10am - 2am
Escort & More: After Hours
Working Hours
| | | |
| --- | --- | --- |
| MON: | 10:00 AM | LATE |
| TUE: | 10:00 AM | LATE |
| WED: | 10:00 AM | LATE |
| THU: | 10:00 AM | LATE |
| FRI: | 10:00 AM | LATE |
| SAT: | 10:00 AM | LATE |
| SUN: | 10:00 AM | LATE |
Contact Us
Address: 5 Enterprise Drive, Berkeley Vale, New South Wales 2261, Australia.
Toggle Map
Added: 22.04.18 | Updated: 26.04.18 | Hits: 968