Advertise
Congratulations! We are very glad to see that you are planning to advertise on Punter Planet.
Punter Planet is the escort-related site with the most traffic in Australia (source: similarweb.com), and on top of that, this is where your clients are.
That's why advertising on Punter Planet works for you!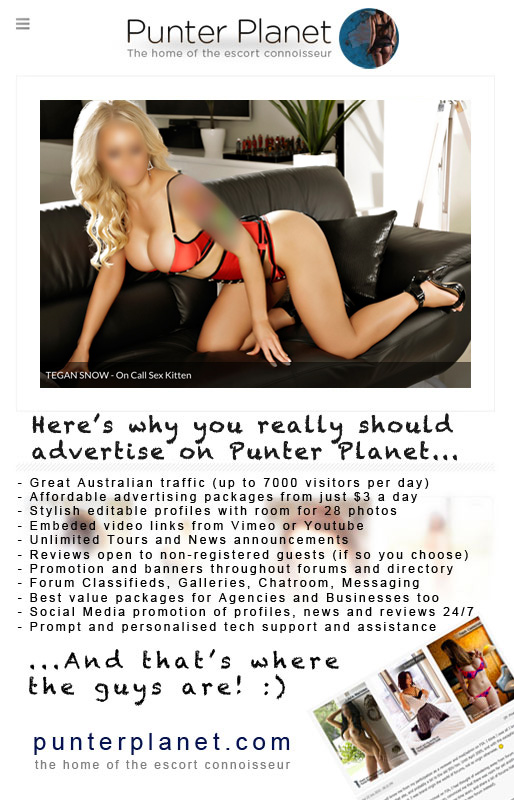 We could talk endlessly about how escort directories work on attracting visitors to their sites, via social media, search engine optimization, etc. but the truth is that Punter Planet's success is due to the huge amount of organic content generated day in, day out, that attracts approx. 50% of our visitors via search engines.
Punter Planet is a dynamic vehicle for the advertising of your services and tours. In addition to your promotional profile, you can (and should) keep all your news coming, to be seen by those who matter, when it matters and where it matters.
Advertising on Punter Planet is also fantastic value for money. Just as an example, a private escort can advertise here from as little as AUD $3 a day (approximate figure based on a 90 day Basic package). That may not even be the price of a coffee these days!
We have recently revamped our advertising guide to make it totally responsive, and hence of easy access to all visitors, no matter what sort of device they use.
This has also come with a stylish design, but that would mean very little if it wasn't for the amount of useful features our packages offer you.
Please take a look at how to advertise on Punter Planet to see how it's done.
By advertising on Punter Planet, you'll also be in great company, as this site attracts the best-reputed and most trustworthy escorts in Australia.
Should you have any further questions or need help with finding the information you are looking for, please don't hesitate in contacting us.
QUICK PACKAGES AND PRICES GUIDE
(All prices include GST)
Showcased Escort (90 days) - AUD $550 (Limited availability)
Featured Escort (90 days) - AUD $385
Featured Escort (30 days) - AUD $220
Escort Basic - (90 days) - AUD $275
Escort Basic - (30 days) - AUD $165
Showcased TS Escort (90 days) - AUD $550 (Limited availability)
Featured TS Escort - (90 days) - AUD $385
Featured TS Escort - (30 days) - AUD $220
TS Escort Basic - (90 days) - AUD $220 (Promotional Rate)
TS Escort Basic - (30 days) - AUD $165
Showcased Masseuse (90 days) - AUD $550 (Limited availability)
Featured Masseuse - (90 days) - AUD $385
Featured Masseuse - (30 days) - AUD $220
Masseuse Basic - (90 days) - AUD $220 (Promotional Rate)
Masseuse Basic - (30 days) - AUD $165
Showcased Parlour Girl (90 days) - AUD $550 (Limited availability)
Featured Parlour Girl - (90 days) - AUD $385
Featured Parlour Girl - (30 days) - AUD $220
Parlour Girl Basic - (90 days) - AUD $220 (Promotional Rate)
Parlour Girl Basic - (30 days) - AUD $165
Showcased Business (90 days) - AUD $715 (Limited availability)
Featured Business (90 days) - AUD $550
Business Basic - (90 days) - AUD $440
(All business packages also come with up to 4 individual basic profiles for their girls at no extra cost)
Industry Supplier (90 days) - AUD $165
Save